Memories of Oxford University Radio Society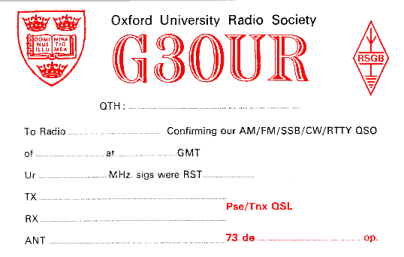 QSL Card created by Richard Russell, G4BAU, circa 1971
The Story Behind This Page
In February 2001, I chanced to meet Richard, G0REL at a local Amateur Radio Rally. In recent years Richard has operated a radio station from Youlbury, a permanent Scout and Guide site near Oxford, for the annual "Jamboree on the Air". Many years ago during my undergraduate days, the Oxford University Radio Society (OURS) set up a Jamboree station from the same site. Richard knew that there had been previous amateur radio activity from Youlbury but had no details. So I promised to pass on as much as I could remember, and a web page seemed the obvious way to do this.

Having started, it seemed like a good idea to extend the subject to include as much of the history of OURS as I could remember. So this is what I have done. The story started by being very selective, based on my own recollections of a brief window in the life of the society, during the period 1963 to 1971. Within few days of the page first appearing, I had received feedback from other past members of OURS, who corrected some of my errors of memory and added their own stories. Further contributions have been added as other former OURS members have discovered the site and provided their own memories. By 2003 the site had grown considerably and so I reorganised it into its present form, with a number of separate smaller pages, as listed below.



Index of Oxford University Radio Society Pages
The Early Years
Whatever information anyone can recall.
1963-1971
Recollections from my own era.
JOTA 1968
A collection of pictures from the 1968 Jamboree on the Air.
(Until recently, wrongly described as happening in 1967).
1975-1979
Recollections from Dave Lawley G4BUO and Steve Bevan G4GFX.
CUWS/OURS Dinner, 2004
Revival of a tradition of joint dinners between the two societies.
Miscellaneous Memories
Short snippets from various contributors.
Who Are These People?
I took these pictures, but they are not who I thought they were!
Where Are They Now?
Names of former OURS members, with contact details where known.

Further anecdotes and pictures from other periods in the society's history are still most welcome. Please send emails to Alan Simpson, G3UMF

The Present
Sadly, as I write this, the Oxford University Radio Society seems to be extinct, or perhaps let us hope, merely dormant. University societies for specialist interests are always fragile. Because people stay at university for such a short time, there is no long-term continuity of faithful members to keep a club going. It only needs two or three consecutive years with no enthusiasts to take over its running and a club dies. This seems to be what has happened to OURS. In its case, the rival interests of computing, and latterly the internet, will have provided added competition to attract the technically minded.

By the 1990 RSGB Callbook, the G3OUR call was registered to someone with an address away from Oxford (possibly the last member acting as licence holder?) and by 1993 it had disappeared from the callbook altogether. So presumably the licence has lapsed. As to what has happened to the clubs equipment and in particular the log books, I have no idea.

If anyone reading this knows anything of its fate, or better still can tell me that it has been resurrected, do please let me know. If anyone can provide information on this or any other aspects of OURS, please send an email to Alan Simpson, G3UMF
---
| | | |
| --- | --- | --- |
| Copyright © Alan Simpson 2001-2010 | Back to the main Index. | Last Updated 2010-01-20 |
---