Walter James Freeborn had a Butcher's shop at 14 High Steet, St.Clements in Oxford. He was born on 25th August 1845, the eldest son of James Arthur Wellington Freeborn and his wife Sarah, who kept the Port Mahon public house (Inn), also in St.Clements.
On 1st May 1871, he married Ellen Smith (born on 23rd March 1843 in Ipswich, Suffolk) and between 1873 and 1887, they had 9 children. The photograph here was taken in their garden behind the butchers shop, on the occasion of their Silver Wedding on 1st May 1896.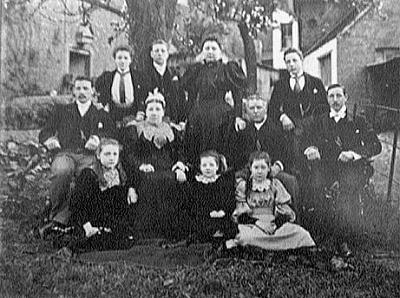 It shows Walter and Ellen with their children. The children ranged around the back row are (left to right): Ernest, Mabel, Herbert, Ellen L, Frederick and George. The front row seated on the ground are (left to right) Kate, Mildred and Edith.

Ellen L. Freeborn b. 1872 was the eldest child. She was for 15 years the head mistress of St Clement's Girls School. She never married and died of peritonitis on 1st June 1911, aged 39.

Ernest W. Freeborn b. 1874 taught at Harrow School, and was housemaster of Bradberry's House. He married Mildred Laura Hancock the widow of the previous housemaster, J.W. Welsford.

George A. Freeborn b. 1877 like his father, became a butcher. He had a shop in Chipping Norton, then later moved to Middleton Cheney . He married Alice May Simmonds (known as "Dolly" in 1904 and they had 3 sons.

Mabel Lizzie Freeborn b. 1877 is our link to the Freeborn family. She married Joseph Eeley in 1905, and was Helen's grandmother. She died in 1960.

Frederick J. Freeborn b.1878 emigrated to New Zealand. Family legend claims that he went with a friend's wife, leaving his pony behind with the friend. (Fair exchange is no robbery !). However the truth is more prosaic. He married a lass from Cumnor, they had two children and then it was his wife who left him, leaving Fred to bring up the children, by then 10 and 8 years old repectively. Only when they were in their late teens did he emigrate to New Zealand where he remarried and raised three further children. He died aged 88 in 1966.

Herbert A. Freeborn b. 1881 carried on his father's butchery business in St.Clements. In 1906 he married Margaret Louisa Walker ("Maggie") and they had two children.

Kate Freeborn b. 1883 was always known as Kitty. She was very musical. In 1910 she married Lionel John Timms and they had three children.

Edith Mary Freeborn b. 1884 Was known as Dolly. She died young.

Mildred Freeborn b. 1886 Was known as Millie and also died young.