Introduction, Site Plan and Summary
These pages are based on the report prepared by Martin Harris, the project leader for Horspath Parish Council, and cover the achievements of the village volunteer conservation group during the year 2002.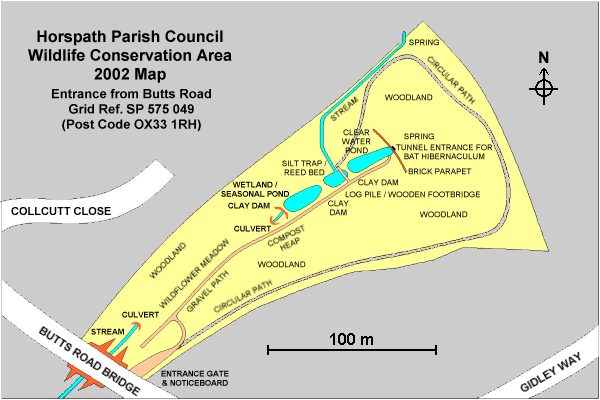 After the initial hard landscaping of the Area was successfully completed in 2000-2001 using the grant from the Millennium Festival (Lottery) fund, the top priority for us in 2002 was the establishment of the bat hibernaculum in the adjacent disused railway tunnel. Because the building work in the tunnel required that the water levels in the adjacent ponds should be kept as low as possible, this year has been one of consolidation in the wetlands, while we tested the system for regulating the water levels in both drought and flood conditions. The other main priority in 2002 has been to improve not only the access to the Area by visitors, but also their understanding of its value for wildlife. To achieve this, a new site map and a brief history of the site, reproduced in this report, have been incorporated into an interpretative notice by the entrance gate, and various school visits and promotional exhibitions have been organised. The three major achievements of the year have been the completion of the bat hibernaculum in the tunnel to the standards set by English Nature and the Bat Conservation Trust, the completion of the log footbridge across the wetlands to meet recommended safety standards, and finally at the end of the year, the designation of our Area as one of Oxfordshire's Jubilee Wildlife Spaces in celebration of Her Majesty Queen Elizabeth's Jubilee Year.
In July 2003, the Horspath Wildlife Conservation Area was selected as the "Best Nature Conservation Area in Oxfordshire" by the judges in the "Best Kept Village Competition" organised by the Campaign for the Protection of Rural England. This is a great tribute to all the sponsors and volunteers who have helped to develop this area over the past 3 years, and is also hopefully an encouragement to others to visit and to help in future."
---
| | | |
| --- | --- | --- |
| Copyright © Martin Harris & Alan Simpson 2003 | Back to the Index | Last Updated 2003-08-24 |
---